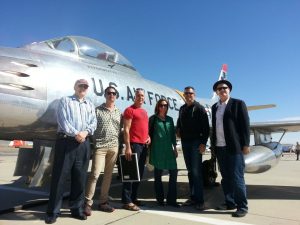 We've just returned from our first tour of Southern California. Boy, were we jazzed (ha) to play the famous Catalina Jazz Club! We thought that might be the high point of our trip West…but it was just the beginning. At Croce's in San Diego, we met Ingrid Croce, a warm and welcoming host who, along with Jimmy Rock, got out the local jazz scene and helped pack the club for us. For two beautiful sets, we all thought about moving to California for a life of swinging and surfing.
Then it was out to Mojave to play a gig in an airplane hangar. Sound a little Spinal Tap-ish? Not at all! We were proud to headline the first High Desert Blues & Jazz Festival for workers and neighbors of the Mojave Air & Space Port. About one-fifth of the local population came out for the show, and their response was incredible. They sang along, danced, and wouldn't leave without three encores. We were flying high! We loved them, and we also loved our opening act, jazz harpist Lori Andrews. She was spectacular.
By chance, the following day was "Plane Day" in Mojave, so after breakfast we got to look at private planes built by spaceport engineers. We met many people who had been to the previous night's show. Their way to repay us was—we kid you not—to take us up for rides in experimental aircraft! We would come back to play music for this little town in a heartbeat.